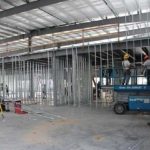 One metric that companies should use when choosing a Houston design build contractor for their projects is the Experience Modifier Rate (EMR). This number represents the overall safety record of a construction company in comparison to other contractors in the same state. Here are some key facts about EMR and its importance in the construction industry.
What Is EMR?
EMR is calculated by comparing the workers' compensation losses of a specific employer with the average of all other employers in the same industry in the same state. Ratings of 1.0 are precisely average. Ratings higher than 1.0 could disqualify contractors from some commercial and public projects. Companies with ratings below 1.0 are considered safer by most commercial clients.
Who Calculates EMR Figures?
The National Council on Compensation Insurance (NCCI) is responsible for calculating EMR in most states. The NCCI uses a complex formula that takes into consideration the following factors:
The number of losses
The amount of money paid out for those losses
The type of industry
These figures are used to determine the amount each construction company must pay in premiums for workers' compensation insurance every year.
Why Does EMR Matter?
The amount paid out in workers' compensation is an indicator of the effectiveness of the safety plans and measures implemented by a Houston design build company. Companies that have higher payout rates than average may not be protecting their workers effectively against risks on the job. Excessive injuries could delay construction work or even prompt a shutdown of the site by OSHA representatives. The added costs of workers' compensation premiums could also increase the overhead for Houston commercial construction firms when completing projects in our area.
The Importance of Safe Construction Practices
Choosing a Houston design build company with a low EMR can prevent injuries and accidents on the worksite that could end up costing time and money. Companies that implement proven safety processes and look out for their workers are often more reliable in managing supply chains and staying on schedule. The attention to detail and care required to keep workers safer can translate into a more productive and professional environment on the construction worksite.
At GRA-Gulf Coast Construction, we are committed to safe working practices. Our low EMR ensures that your Houston office building construction project or other commercial building ventures will be completed on time and with a much lower risk of delays or shutdowns. This can provide you with added peace of mind and can streamline the entire process for you and your business. To learn more about the benefits of our low EMR or to discuss your upcoming project with our construction experts, call us today at 713-934-7797. We look forward to the opportunity to work with you.
Save