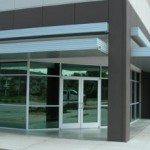 While many Houston commercial construction companies were slow to "go green," it is no longer possible to deny that the movement has broken into the industry's mainstream. Thanks to a streamlined certification system, improving economies of scale and a growing roster of large-scale projects that employ energy-efficient technologies, green construction techniques are increasingly competitive with traditional building methods. Indeed, many Houston industrial construction clients now view green buildings as smart investments that can pay dividends for decades to come.
Building Blocks of Green Houston Office Building Construction
Without important office building construction technological advances, green construction would not even be possible. Materials and systems that feature prominently in green commercial buildings include:
Energy-efficient lighting systems that use LEDs or CFLs
Low-volume toilets and taps
Efficient HVAC equipment and passive heating/cooling protocols
Ultra-efficient recycling and water-reuse systems
"Green roofs" that use natural vegetation to absorb storm runoff and provide a natural heat sink for upper floors
Wind turbines, solar panels, geothermal water-heating systems and other renewable power sources
This list is by no means exhaustive, and new materials and technologies are constantly finding their way to the market.
The ongoing green construction boom also owes a debt to Leadership in Energy & Environmental Design (LEED), a sensible certification program that provides builders with straightforward guidelines for environmentally friendly building projects. Administered by the nonprofit U.S. Green Building Council, the LEED program uses a multitude of criteria to assign one of four certification levels – "certified," gold, silver and platinum – to newly built or renovated structures. LEED standards cover every facet of the building process, including:
Water use
Structural components
Decorative materials
Waste disposal/recycling
Energy use
Infrastructure
Building management protocols
Now that energy efficient materials and technologies like LED light bulbs, next-generation insulation and passive heating systems are widely available, it is not hard for commercial builders to construct LEED-certified buildings. While gold, silver and platinum buildings are a bit more costly to build, they are rapidly becoming more economical as well.
Key Benefits of Green Commercial and Industrial Construction
Newly built and renovated buildings that incorporate energy-efficient technologies produce real benefits for their owners and managers. Among other things, green buildings use fewer non-renewable resources to generate power, produce less waste and use less water. Specific cost and material savings include:
25 to 50 percent less energy use
10 to 40 percent less water use
35 percent less carbon output
Additionally, people who work in green buildings tend to score higher on surveys of well-being and personal satisfaction.
More importantly for construction clients, these structures tend to pay for themselves over the medium term. LEED-certified buildings may have dramatically lower operating costs than traditional structures. A recent report found that the average green structure's maintenance cost comes in at about 80 percent of that of a non-certified property.
Commercial Construction Leads the Charge
From convection ovens and refrigerators to personal computers and cordless phones, residential builders – and homeowners themselves – often adopt new technologies before the business community. When it comes to green construction, this truism breaks down. Commercial builders are on the forefront of the efficient-design movement. As of 2012, more than 3 billion square feet of U.S. office space enjoyed some sort of LEED certification, and this figure is expected to double within the coming half-decade.
Meanwhile, the space's growth continues to accelerate. By 2015, experts expect that half of all new hotels, restaurants and retail buildings will be built to LEED standards. The entire green building ecosystem could produce annual revenues of $250 billion by the following year. With the first LEED-certified NFL stadium slated to open near San Francisco in 2014, the future looks bright – and green – for the commercial construction industry.