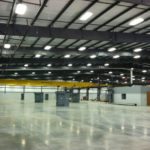 Light-transmitting panels can offer a variety of benefits for your Houston metal building construction project. These innovative materials can allow natural light to shine into work spaces, retail areas and other parts of your facility, allowing you to enjoy the most green-friendly lighting options for your company and the most practical solutions for your building project. Here are some of the most important benefits of light-transmitting panels for your buildings and facilities in the Houston area.
Reduced Costs for Lighting
By increasing the amount of natural light in your Houston metal building construction project with the addition of light-transmitting panels, you can reduce the expense of lighting your interior spaces during the daylight hours. This can help you to achieve lower utility bills while ensuring natural lighting for your work spaces and retail floors. Reducing your company's use of electrical lighting can also lower your carbon footprint, allowing you to adopt more sustainable and green-friendly policies for your corporate use of energy.
Increased Productivity
Studies have shown that workers perform better and stay healthier in workplaces where light-transmitting panels provide exposure to natural sunlight during the daylight hours.
Natural lighting can reduce eyestrain and can improve morale for your workers.
Newer technologies have made it much easier to filter out ultraviolet rays while ensuring that your staff members enjoy the benefits of natural lighting inside your workplace.
A study conducted by the Heschong Mahone Group in 2003 indicated that workers in the Sacramento Municipal Utility District were much more productive and performed at a higher level in offices that featured natural lighting.
Another study, which was published in 2014 in the Journal of Clinical Sleep Medicine, found that people who were exposed to natural light at their workplaces were likely to get more sleep and to be healthier than colleagues who worked under artificial lights.
By opting for light-transmitting panels in your Houston design build project, you can ensure the most comfortable and productive environment for your staff members.
Improved Options for Recycling
Polycarbonate skylights and light-transmitting panels are fully recyclable, making them a green-friendly choice for your corporate building project. These materials are designed to stay clear and to remain functional for many years into the future, which ensures that they are a cost-effective choice for your company as well.
At GRA-Gulf Coast Construction, LLC, we offer comprehensive Houston commercial construction services designed with your needs in mind. Our team of professional contractors can provide you with the most cost-effective and green-friendly options for your Houston metal building construction project, allowing you to enjoy the benefits of professional oversight for all your construction activities. Call us today at 713-934-7797 to schedule a free consultation with GRA-Gulf Coast Construction. We look forward to the opportunity to serve you.