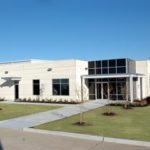 Insulating concrete form systems can streamline the construction process for Houston design-build projects. These popular building methods offer real advantages for companies interested in keeping their costs low while achieving superior insulation and fire resistance for their buildings. Here are some key facts about insulating concrete form systems in the construction industry.
What Is an Insulating Concrete Form?
Constructed of lightweight and hollow blocks of plastic foam, insulating concrete forms (ICFs) are stacked to form the outer walls of a building structure. The hollow interior of these blocks is then filled with reinforced concrete poured from the top. The ICFs remain in place to create layers of insulation both inside and outside the concrete walls. This can create buildings that are strong and well insulated by design, making ICFs a key component in many Houston LEED construction projects.
Benefits of ICFs
ICF systems make it much easier for Houston commercial construction firms to produce solid structures quickly and efficiently. These buildings offer other advantages, including the following:
Highly resistant to pest and infestations
Airtight walls for greater insulation value
Solid strength and durability
Fire resistances
Reduced noise from outside traffic
These benefits have made ICF systems a popular choice for large-scale building projects like shopping centers, churches, educational facilities and government buildings.
Types of ICF Systems
While many different manufacturers produce ICFs for the construction marketplace, three basic ICF types are available for use:
Flat wall ICFs are designed to create flat and even walls of concrete with little variation in width from one segment to the next.
Screen grid ICFs use columns of concrete to create very strong walls that hold their shape well under pressure.
Waffle grid wall ICFs are designed to allow variance in the width of concrete from one part of the wall to another. This can reduce the weight of these sections while ensuring durability and strength for your structure.
Working with a company that specializes in Houston design build services can provide added help in determining the right ICF system for your building project and your needs. This can help you to make the most practical investment in these advanced building systems for your clients and your construction firm.
The experts at GRA-Gulf Coast Construction LLC can provide general contracting, design-build and turnkey solutions for our clients that include ICF options for faster construction. We will work with you to ensure the most efficient buildings and the highest level of LEED certification possible for your construction projects. Call us today at 713-934-7797 to schedule a free consultation with our experienced construction services team. We look forward to the opportunity to serve you.