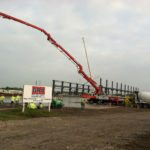 When you are in need of commercial building construction for your new or expanding company, several concepts are likely at the forefront of your mind. Cost and build time are among the essential considerations for every business owner considering a Houston design build project.
Whether you are designing a warehouse, office building, or retail facility, you have two reliable materials to choose from: Concrete or steel. Both materials are durable and ideal for all forms of Houston industrial construction, but finding the best option for your construction project is a personalized process based on a variety of factors.
Size Matters: Weighing Cost Options
As a raw material, concrete is generally less costly than steel, but many types of concrete projects require the use of heavy machinery or equipment, which can drive up the project's fixed costs. However, many industry experts believe that, when a construction design exceeds 50,000 square feet, concrete's low price begins to offset the cost of using heavy equipment.
Concrete is actually a compound containing cement, which acts a binding agent, along with water and a type of aggregate — rock, gravel, or sand. This blend is exceptionally strong, but also heavy. In a "tilt-up" concrete project, a large crane must be used to put giant slabs of hardened concrete in place. It is estimated that approximately 15 percent of Houston commercial construction projects are built using the tilt-up method.
Along with the fact that size matters, a building's shape plays a role in determining the best construction material. The spanning capacity of steel is superior to that of concrete, so when designing buildings with wide bays and/or long spans, steel is typically the more cost-effective option in the long run.
Watching the Clock
The amount of time it takes to complete a Houston design build also factors into a project's overhead cost. In the past, it was generally accepted that concrete beats steel in regard to a construction project's time-frame, but the steel industry is making huge strides in reducing build time.
3D modeling technology is a major player in helping speed up steel construction projects: A steel industrial building's design time can be reduced by up to 50 percent using 3D models, according to some estimates.
Keeping Your Business in the "Green"
The Lone Star State is becoming a major player where a company's environmental impact is concerned. If a commitment to sustainability is a major component of your overall business model, you will find that steel is the top dog among construction materials.
Steel is 100 percent recyclable and made almost completely from recycled material. In addition, LEED certification is based in part on the design of a company's buildings, so steel construction can help your business achieve a stamp of approval from the U.S. Green Building Council.
Houston Design Build Leaders
No matter if you ultimately choose steel over concrete or vice-versa for your Houston industrial construction project, new and expanding businesses alike need a knowledgeable, experienced construction company on their side. Contact GRA-Gulf Coast Construction LLC today and let us know how we can help turn your design vision into reality.