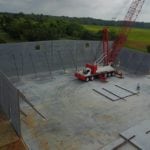 Whether you are interested in a Houston design build arrangement or a turnkey solution for your construction project, understanding your options can help you make more educated choices about the methods and materials used in your upcoming building plans. Deciding between tilt-wall and precast concrete can make a big difference in the speed of construction and the quality of your finished product. Here are some key points to consider when choosing tilt-up or precast concrete construction methods for your next project.
Tilt-Up Vs. Precast Concrete
Tilt-up concrete panels and components are poured and cast on-site before they are lifted into position. By contrast, precast concrete is fabricated off-site and transported to the construction area. Each of these construction methods offers certain advantages and drawbacks for your project.
Transportation
Because tilt-up panels are created on your worksite, they do not typically require transportation. The cost of transporting precast concrete can sometimes be figured into the overall cost of the parts to reduce the amount you would otherwise pay for delivery.
Size Limitations
The size and weight of precast concrete components can be a limiting factor for transporting these panels to your worksite. Because they are fabricated on the spot, tilt-up panels typically do not suffer from these restrictions and can be poured to suit your precise Houston commercial construction requirements.
Weather Conditions
Because concrete usually takes longer to cure in freezing weather, delays could be an issue for Houston tilt-wall construction during cold temperatures. In most cases, precast concrete can be poured and cured indoors, eliminating these issues and ensuring that your components can be completed and delivered even when the mercury takes a downturn outside.
Insulation Factors
The larger size of tilt-wall panels can reduce the number of joints necessary in the outer walls of your building, limiting the areas through which thermal energy can escape. This can make tilt-wall buildings much easier to insulate and can boost the energy efficiency of your finished project, allowing you to ensure the lowest utility bills possible for these buildings.
Working with an established construction contractor is usually the most effective way to obtain the expert guidance you need to make the right decisions for your project. The team at GRA-Gulf Coast Construction can provide you with expert general contracting services for your current or upcoming project. We can deliver the most appropriate solutions for your needs. Give us a call today at 713-934-7797 to schedule a free consultation with our team of construction experts. At GRA-Gulf Coast Construction, we are committed to the best in turn-key construction services for your building needs.